We have our new RV and to do a simple "check out" which we like to do before big trips, we trekked about an hour west of our city and find a little gem of a state park.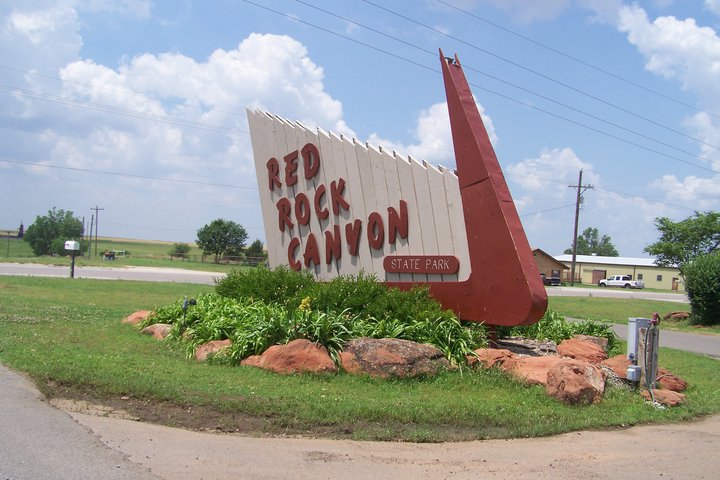 It's just a quick 5 minutes off I-40 about an hour from the capital city.
We expected to spend most of our time inside the RV checking it out and making sure everything worked and what didn't and what did. But what we discovered was a little gem of a state park.
Red Rock Canyon was a standard stop-over for covered wagons on the California trail. It has plenty of shade and a quiet cool respite from the hot dry prairie and route ahead. When you visit you can see why. While the rest of the world is having 70° lows, it was at least 5 or more degrees cooler in the canyon floor which is where most of the RV sites are. The unfortunate thing is that there are only 3 full hookup sites, however tons of water & electric sites available.
The park has other amenities as well. The first thing we noticed coming in were the Mississippi Kites that were flying all about, oblivious of the goings on under neath (the park is well used during the summer months).
Upon entering the canyon we counted about 9 kites flying over the canyon floor
Although they didn't seem concerned about all the traffic on the canyon floor, they did keep their eyes on us.
And you didn't want to be under one of them - although they eat bugs, you never can tell!!! ;)
There are a number of short hikes around the canyon and one we took led to a little brook that was a home to a lot of damselflies. Damselflies are different from dragonflies in that the damselflies rest with their wings closed, and the dragonflies rest with their wings open. That said, it doesn't mean that while on a leaf they don't
stretch
their wings a little. Walt of course made the most of the bad light and the Ebony Jewelwing Damselflies.
When the light was just so, he could catch a beautiful shot with the brook lite by the sun and the red dirt from the bottom of the brook in the background.
Here's the wonderful brook just outside our RV that has a fabulous peaceful sound every morning and late evening.
As a parting gift, as if this place hadn't given up all for our fabulous stay here, last night an owl showed up close to our site. Tonite, I was watching closely, and he showed up again. Now granted this is not a great shot, but the best I could do with the light. The sun had already set and this guy was out for his evening romp as owls are want to do.
In case you miss him - here he is in a close up - like, I said this is a horrible shot, but just one more fantastic part of our trip to this state park.
We stayed a lot longer than we planned, mostly because of the wonderful surroundings. We can both tell from the trees and surroundings, that this will be a fabulous place to visit this fall when the trees turn colors.
Both of us highly recommend this park (even Siggy our dog enjoys the nice walks through Red Rock Canyon), if you are coming through the state. During the summer weekends it is used, but during the weekdays you should be able to get a nice site. The park is well maintained and great care is taken to make all the camping areas as clean and useable as possible. Almost all the sites we saw were level, and most of them had electric and water. There are baths and showers throughout the park, and a nice swimming pool.